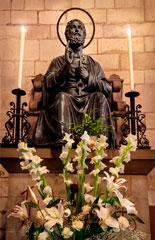 Eiiiiiii … We are already here! Finally, our parish already has its own website.
I hope you like it. Opinions, suggestions and remarks are accepted to improve bit by bit this website that is part of all of us. Surely I have missed more than one detail. You will tell me.
In these moments when we are separated and we miss our Eucharistic celebrations as well as our meetings and the tasks that we all carry out in our parish, this website can be a way to be a little closer to each other and remember who we are and what we do in our small but great parish community.
This are hard time for many people: family, friends, neighbours, society and for ourselves. Our parish also experiences the suspension of its normal activity. We also feels confused and sometimes a certain discouragement may appear, but let's remind you that our community has gone through the same or worse things throughout its almost thousand years of history, and we are still here! … Neither wars, nor crises, nor plagues, have been able to make disappear a community that, under the patronage of St Peter Apostle, has risen from the ashes several times. Our parish has been, is, and will continue to be, a meeting and reference point in our neighbourhood.
A very big hug to all of you and I wish we can meet again soon and give "life" to each other with our usual smile. I invite you not to stop praying for each other so that these difficult moments become moments of grace that strengthen our faith and unite us more in a alive and hopeful brotherhood.
Thank you all.